Customer Reviews
08/04/2020
Kristina M.
United States
Best gift in these times...
Perfect gift for a friend of mine for when the fall comes to NYC. She said it was the perfect fabric for the fall.
08/03/2020
Taimy H.
United States
face mask
Adorable! I got one for my mom and I. We both love it, than you!
07/29/2020
Danielle O.
United States
07/25/2020
Lauren R.
United States
Beautiful and comfortable
The mask is absolutely beautiful. The fabric is very high quality, and even the strings behind your ears are very soft texture. I love it!
07/22/2020
Cristina d.
United States
Surprised Finding
I have been following you for a long time and have purchased from you before. It was a great experience, so I was disappointed to stumble upon your Good Vibes Face Mask on Shein.com for $3.50. I was surprised at the markup considering there was no added value in terms of it being unique to your brand, nor did you include additional items nor was it part of any charitable fundraiser (as far as I can tell).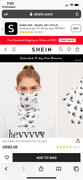 ---